Our Staff
Our staff's commitment to you

Our staff is committed to providing support, compassion, information, and direction as needed to all members of our community, their families, and friends who are dealing with loss and grief.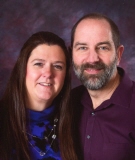 Theo & Teri Boman
Owners, Funeral Director & Administrative Assistant
Theo moved from Forest City, Iowa to Portland, Oregon where he attended Mt. Hood Community College and earned a degree in Mortuary Science. While attending classes and studying he was employed by a funeral home where he met and later married the secretary, Teri Morris, a native of the area.

After gaining five years of experience with Turner Funeral Home, Spirit Lake, Theo became director/manager of Memorial Funeral Home, Sioux Center, for nine years, and then the director/manager of the Gilbert Funeral Homes in Albia, Lovilia, Bussey, and Moravia.

Teri attended Northwest Business College, in Portland, Oregon, and then worked as a Secretary at Gables Funeral Home in Oregon. She supports her husband and works alongside helping in numerous ways including the making of meaningful DVD presentations for families to keep as remembrances of their loved one.

Theo and Teri have five children, and three grandchildren: Elizabeth & Daniel Baxter in Fertile, IA; Barb & Matt Etcher (Kinnick, Kloe, and Karley) in Lovilia, IA; Peter& Ashley Boman, Ames, IA; Michelle, Webster City; and Samuel, Ames, IA.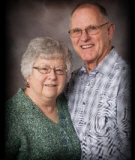 John & Nancy Morris
John and Nancy Morris, Teri's parents, moved to Webster City from Mesa, AZ to be a part of Boman Funeral Home and the community. Prior to retirement, John worked for a large electric utility in Portland, OR. He enjoys golfing and table tennis. Nancy was employed in the medical accounting field as well as teaching needlework and rubber stamping. They help with visitations and funerals.